The St Andrews group works on theoretical plasma physics. Aspects relevant to the ALPHA-X project include wave propagation in plasmas, wave-wave interactions with particular reference to Raman amplification and wave-particle interactions and particle acceleration mechanisms.
Close collaborative links are maintained with the theoreticians in the Strathclyde and Lancaster teams.
Prof. Alan Cairns
e-mail: rac@st-and.ac.uk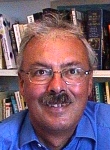 Alan has been at the University of St Andrews since 1970 and is now an Emertius Professor in the School of Mathematics and Statistics. Alan has worked on a wide range of problems in theoretical plasma physics. As well as work on laser-plasmas relevant to the ALPHA-X project, he has worked on magnetically confined plasmas and on space plasmas.